All-on-4 and All-on-6 Zirconia Prosthesis & Hybrid Dentures
All-on-4 and all-on-6 zirconia prosthesis restorations and hybrid dentures provide patients with a full set of teeth attached by either 4 or 6 dental implants.  By using this method, you incorporate the strategic placement of the 4 to 6 dental implants in the strongest areas of the mouth at specific angles to ensure a sturdy fit and of course the beautiful smile that your patients want and need.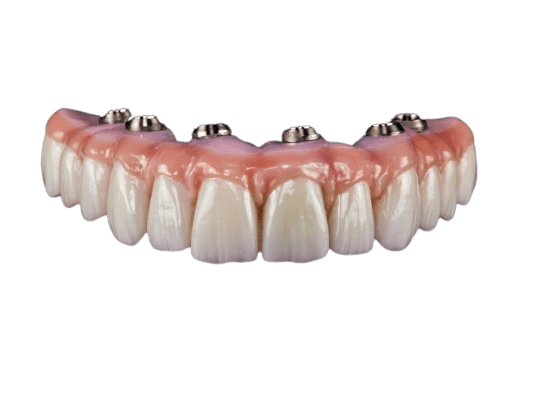 Hybrid Zirconia Bridges & Dentures
Screw-retained zirconia prosthesis that can be supported by a variety of different systems. Hybrid zirconia bridges and dentures are fabricated using 100% monolithic zirconia which contributes to optimal esthetics, translucency and strength. Staining and chipping is drastically reduced as well. Choose from a T-Base or a a bar - chrome cobalt bar or titanium bar. The teeth for these restorations can be processed using FCZ, PFZ, and high-translucent zirconia, as well as PFM and glass ceramics.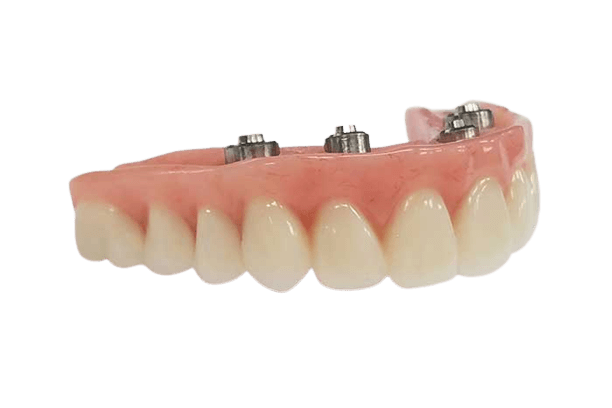 Hybrid Acrylic Dentures
Hybrid acrylic dentures are made with screw-retained implants as well, however the material used for the synthetic gum is a traditional acrylic denture material. Each denture is individually designed by one of our experienced master technicians. Hybrid acrylic dentures remain a top choice for dental lab cases that require a full-arch restorative option. Next Dental Lab's hybrid acrylic dentures are a premium option for those patients looking for a more natural and real feeling, when comparing to regular over-dentures.
Ready To Take Your Dental Practice
to the next level?